Mane Obtains Bronze Award for the Defence Employer Recognition Scheme
15.04.2019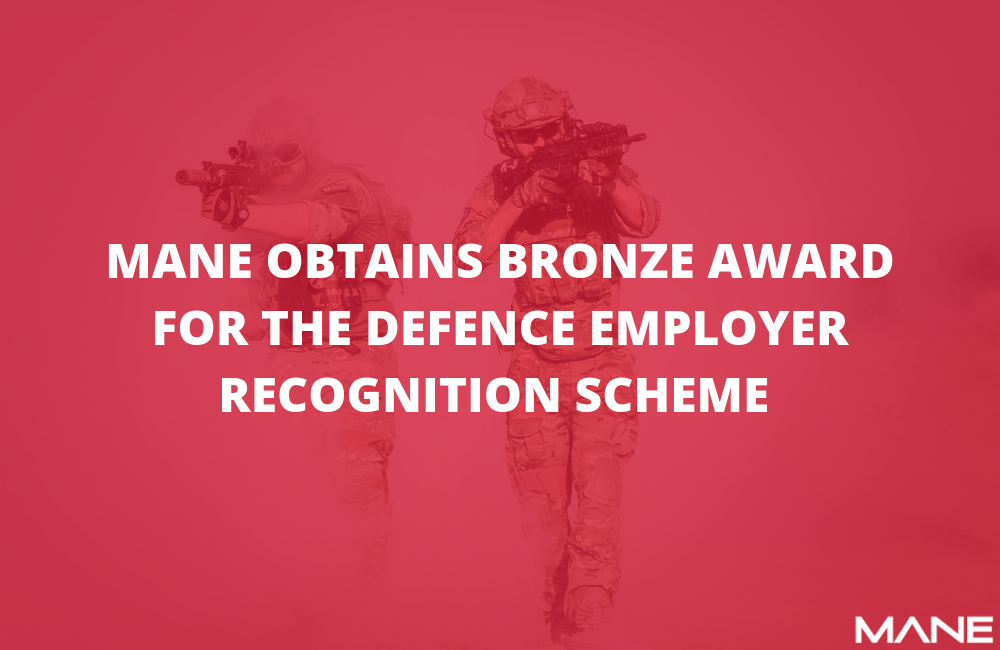 Recently, Mane has made extra steps in ensuring that we as a company offer our support to all armed forces serving personnel, Veterans and service leavers, so they know that we will value and treat them with equal respect. We have done this by:
• Signing the Armed Forces Covenant
• Receiving a Bronze award for the government Defence Employer Recognition scheme
• Engaging with the Royal Electric and Mechanical Engineer charity (REME/RAJA)
• Engaging with the Officers Association (OA)
• Future plans to attend an event for The Career Transition Partnership (CTP)
The Armed Forces Covenant focuses on ensuring members of the Armed Forces community have the same access that non-servants do. We have signed the Covenant as a further demonstration of our support to the Armed Forces, committing to all candidates, armed forces or not, be treated equally.
After signing the Armed Forces Covenant we then applied to join the Defence Employer Recognition Scheme which encourages employers to support defence and inspire others to do the same.
We are extremely pleased to have received the Bronze award as of March 2019 and we are currently in the process of achieving the Silver award due to our support to those within the armed forces.
By further engaging with the REME/RAJA charity, CTP and the OA, we are able to extend our support to those who serve or have served in the armed forces, we do truly believe every candidate should be treated fairly.
Mane will be attending the Career Transition Partnership's Employment fair in Bristol later this year, as well as future events. The CTP's aim is to ensure that anybody leaving the Royal Navy, Army, Royal Air Force or the Royal Marines all have an equal chance at employment. Having our presence there will allow us to meet all those who have served in the Armed Forces and hopefully aid them on their next job move.
If you're looking for your next career move within the Aerospace, Defence & Space industry please get in contact with the team today on aerospace@mane.co.uk or 01923 470 750.