International Women's Day - Rail & Construction
07.03.2019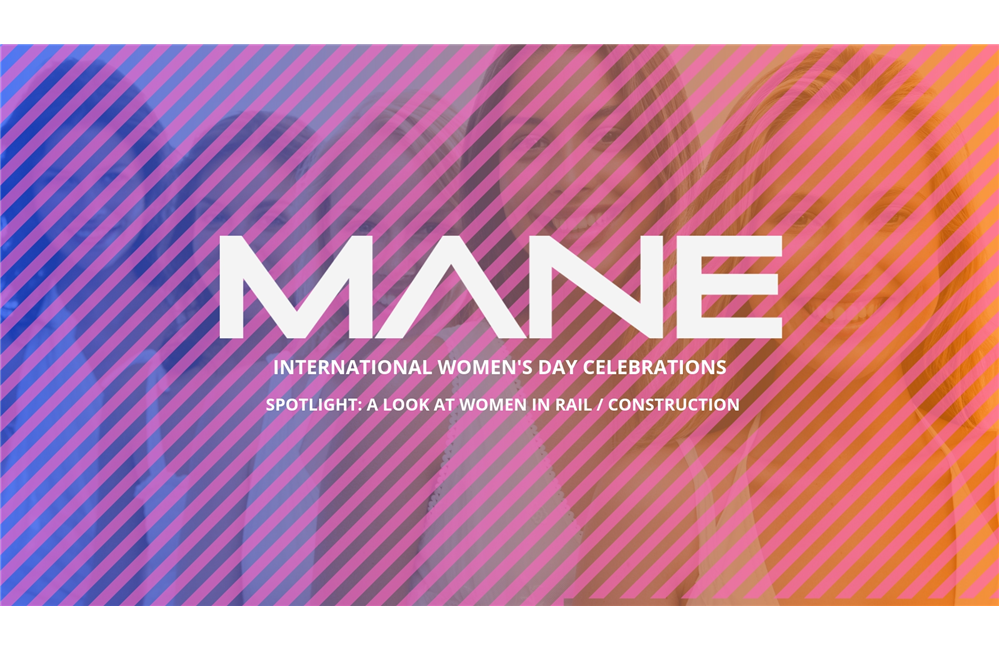 This Friday, 8th March is a day to celebrate all women's achievements. With it being international women's day, all of us at Mane would like to highlight how some of the industries we work in, could in fact be more gender balanced. With this year's theme being #BalanceforBetter, it's important for us all to try and better the balance and better the world by making the workplace more equal.
The 2019 #BalanceforBetter campaign runs all year long and with that in mind, we'd like to discuss the distinct lack of women within both the Rail & Construction industries. To get first hand opinions on the lack of women we spoke to two of our recruitment consultants, Frankie Wright from Rail and Donna Murphy from Construction.
It is clear that the rail industry needs to shift its gender balance. The perception of rail as a masculine industry has been identified as a big impact factor preventing women from joining the sector. Women normally join rail by accident rather than choice. When discussing the ratio split between males and females, Frankie said "It varies, I'd say it's about 90:10 for blue collar roles and 70:30 for white collar roles". With only around 16% of rail workers being female, it is an extremely low stat and something that needs to be changed.
When we asked Frankie why she thought there was a lack of women in the rail industry she said "The stereotype of all workers being male is definitely a factor, not only this the physical side of the job doesn't appeal to women as much as it does with men". In order for more women to be interested in joining the rail sector, we need to shift the stereotypical view of only male workers working within the industry.
We went on to ask Frankie what she would say to women considering joining the industry and she said "Go for it! Don't second guess yourself. Industry knowledge can be learned and it's a really interesting industry with something new always going on. Being a women in the industry can work to your advantage and put you in demand".
Moving on from the rail sector, we took a look at the lack of women within the construction industry whilst talking to one of our recruitment consultants Donna Murphy, who recruits for permanent candidates within the industry. We asked Donna her views on how women are represented within the recruitment industry and she said "There not fairly represented, there is a distinct lack of women within many industries. Most offices I have worked in have been male dominated, with women specifically working support roles".
Donna said that she believed the ratio of male to female workers to be 90:10 and unfortunately she wasn't far off. Women make up around 14% of the construction industry. We asked her why she thought this was and she said "Historically it's been a male profession, subjects like engineering are not being pushed enough at schools, the STEM programme is helping but there is still a lot of work that needs to be done".
There are many ways in which you can enter the industry, at any time of your life not just after leaving school. There are many apprenticeships, trainee programmes or even work experience that could lead you to your next career move within such an exciting industry. We asked Donna what she would say to women trying to get into the industry, she said "Push yourself, don't be afraid to work in a male industry. More and more companies are looking for women to reach gender based KPI's and due to this you're at an advantage so you will not be short of opportunities".
We understand that joining a male dominated industry can be scary but it can be extremely rewarding, with many women saying they extremely enjoy their jobs. We totally support international women's day and we hope the theme #BalanceforBetter will be incorporated into these industries to achieve a gender balanced world that is not only profitable but will allow for the economy and communities to thrive.
Here at Mane, we would love to speak to anyone who is looking for their next career move either in the rail of construction industry. If you're interested please get in contact with us on + 44 (0) 1923 470 730 for rail and +44 (0) 1923 470 770 for construction.